Pallaprolu "And the Winner Is"
Spinjet3D team, that includes ECE PhD student Anurag Pallaprolu, earns the $10,000 First Place Award in UCSB's 2020 Technology Management New Venture Competition (NVC) contest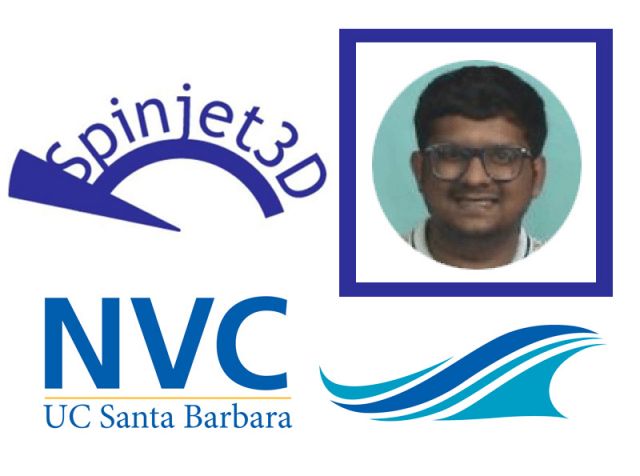 The Spinjet3D team bested four other teams in the finals of the eight-month tech business plan competition. With the UC Santa Barbara campus closed during the coronavirus outbreak, the annual competition was held remotely and viewed live by people around the world. 
Along with Anurag Pallaprolu, team members Noah Treiman (physics major), Yiling Yang (mechanical engineering student), and Piergiacomo Palmisani (technology management graduate student) were recognized for the new type of 3D printer they have developed.
Making metal parts, especially those that are not produced at large scale, is expensive and time consuming. Molds have to be made by hand before the metal is poured in to create the part. Sand-mold 3D printers, which print the mold directly from common sand materials, are a time-saving alternative, but their size and hefty price tag make them inaccessible for many metal-part manufacturers. 
Spinjet3D's new sand-mold 3D printer could greatly benefit cast-mold manufacturers in the jewelry, prototyping, and tool design industries. The students say that their fully automated printer, with its unique design, is faster, cheaper, more precise, and more eco-friendly than existing technology. 
"We are extremely grateful to the Technology Management Program for this incredible experience and opportunity," the team said in a written statement. "Our team met through NVC events, and the mentorship the program provided was invaluable. We look forward to making a positive change in the metal manufacturing industry, and we are excited to start our journey here in the Santa Barbara community."
The Spinjet3D teams said that they plan to use their winnings to finish developing the product and raising capital. They plan to test their prototypes this summer.
Now in its 21st year, the New Venture Competition is the culmination of a rigorous eight-month process open to students from all disciplines at UCSB. Mentored by a team of more than forty individuals who have lived and thrived in the past-paced world of tech entrepreneurship, students receive first-hand knowledge and the opportunity to hone their entrepreneurship skills, refine their business plans and practice pitching their stories and ideas.
Pitches of all fifteen teams that participated in the New Venture Competition can be viewed at https://www.newventure.live
The UCSB Current – "And the Winner Is" (full article)