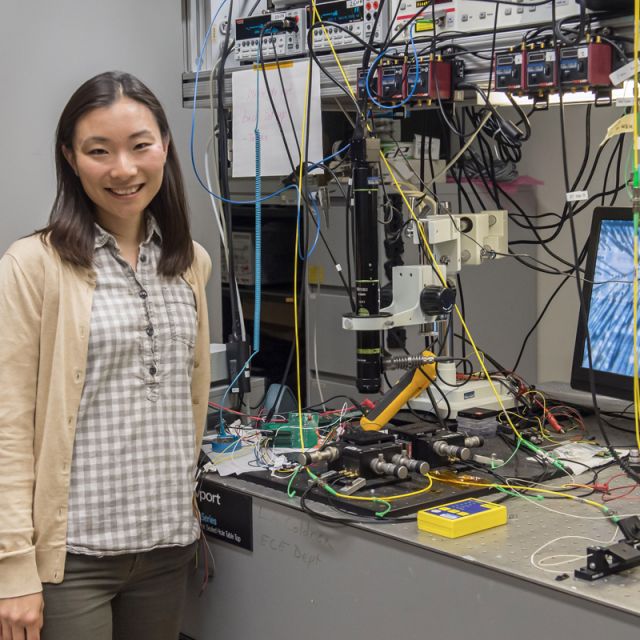 Takako Hirokawa – PhD student in Electronics & Photonics
In her own words – Interviewed during 6th year
Hometown: Ridgefield, CT
Degrees: BS degrees in Engineering Physics and Applied Math from the University of Colorado Boulder; MS degree in Electrical and Computer Engineering from UCSB
Degree sought from UCSB: PhD, 6th year
Group/Advisor: Clint Schow / Optoelectronics Technology Center
Research Program: Electronics & Photonics
Main area of research: Photonic Integrated Circuits
Research interests: Silicon Photonics, Photonic Switches, Silicon Photonic Modulators
Master's thesis topic: Photonic Switches
Publication list: Hirokawa's ResearchGate profile
Important conferences attended: I went to Optical Interconnects recently to present a talk. I've previously attended The Optical Networking and Communication Conference & Exhibition (OFC) and IEEE Photonics Conference
Types of financial assistance received: Teaching Assistant (TA) for the first year and a half and Graduate Student Researcher (GSR) since then
Awards & honors received: Outstanding Physics TA Award
UCSB student organizations: Photonics Society at UCSB
Professional memberships: Institute of Electrical and Electronics Engineers (IEEE) Photonics Society, The Optical Society (OSA), Society of Photo-Optical Instrumentation Engineers (SPIE)
Hobbies: Figure skating, cycling, walking on the beach, educational outreach
Interesting aside about Takako: I took two years off between undergrad and grad school. During those two years, I spent the morning of a typical day on the ice practicing or teaching, and the afternoon doing Physics Education Research.
Favorite things about
ECE department: The highly collaborative environment!
UCSB: The variety opportunities you can find outside your research, such as professional development, teaching, and outreach
Santa Barbara: The weather. People often ask me how I can study if the weather is always nice, and I always say that because the weather is always nice, you don't feel like you're missing out if you happen to be stuck in lab all day.
Takako and her research
Tell us about your research
I work on two main projects that fit under the general theme of developing Silicon Photonic Integrated Circuits for data center applications. With the continued global increase in demand for more data and most of the global IP traffic occurring in the data center, we will need to move towards faster communication links in the data centers. Both my projects look to address how we transport increasing data rates in an energy efficient manner. The first project was funded through AIM Photonics and is developing a wavelength-selective silicon photonic switch. I have designed ring-based switches with special care taken to make sure that it can be driven by a custom electrical IC and that it is compatible with standard methods of introducing electrical and optical signals. The second project is funded by ARPA-E that aims to develop analog coherent optical links. This includes InP and Si PIC transmitter and receiver development. I design and test Si photonic Mach-Zehnder modulators on this project and on the system analysis of the energy efficiency of the links.
In addition to those two main projects, I am also involved in a project for free space optical link for cryogenic operation, which has involved designing and testing silicon ring modulators.
How and why did you get into your area of research?
In undergrad, I was studying physics and worked in a couple of research labs that did Atomic, Molecular, Optical Physics (AMO). I loved it but was worried about getting a job in AMO after getting a PhD because it's a very competitive field. I decided I wanted to pursue something a little more engineering-y. I found that photonics was pretty much exactly what I was looking for in that I still got to manipulate light in interesting ways, and that whatever highly specific skills I learned during my PhD would help me get a job afterwards.
Why did you select UCSB and ECE in regards to your research?
It's hard not to argue with the caliber of the photonics faculty or the location.
What do you find rewarding about your research?
Knowing that I'm working on relevant, tangible, real-world problems is the most rewarding aspect of my research. It's doubly rewarding when someone at a company, for example, contacts you asking to know more about the details of your project.
UCSB prides itself on its collaborative atmosphere, give some examples of how you collaborate
I love that the department is highly collaborative. Since starting research here, I have worked with eight or nine ECE faculty in varying capacities. For most of the faculty I've worked with, it's because they are a PI on a project that I'm working on. For the other few faculty members, it's because they have more expertise and I needed to their advice on what to pursue in my project. On the AIM Photonics switch project, I worked with two Bowers students and a Theogarajan student and with a lot of input from Prof. Adel Saleh and Dr. Roger Helkey from the on-campus Institute for Energy Efficiency. For the ARPA-E project, I regularly work with members of Klamkin group, Buckwalter group, and Saleh group, in addition to my own research group. Though Prof. Larry Coldren is retired, he still advises on this project and often has insightful input.
Thoughts on working in a group research environment and your experience working with an advisor
For the first couple of years I was the only person in my group or the only person in my group doing research. But from the very start, I've worked with people in other groups on projects, so when more people started joining my group and doing research, it didn't seem too different from what I was doing other than there were more people you could work with and rely on. As for my advisor, Prof. Clint Schow, he's the best, and I'm not just saying that because he's paying me. After having had an awful research advisor from a previous life, I wanted to make sure that I worked for someone who I was unafraid to ask my "dumb" questions and who I got on with personally. Thankfully, Clint is very approachable and helpful, —he'll even come into lab to help with your experiments! —and takes all my super basic circuits questions beyond Ohm's law in stride.
Where will your research take you next?
I should figure that out soon, but I'd like to continue doing research in industry because I'd like to have a different perspective on research than the one you get from academia. But I'd also like to come back to academia because I love teaching.
Takako's thoughts on the academics at UCSB
Strengths of the graduate program
The strength lies in the fact that there is a highly collaborative environment. The exchange of ideas with people in other groups at UCSB makes everyone's research better.
Favorite course
I really enjoyed the ECE 228 series (Fiber Optic Communications / Fiber Optic Components and Systems) on fiber optic communications. As someone with a Physics background, it was eye-opening to see the impacts of physics of these materials had on technology.
Experience with the graduate exams
For the screening exam, study with other people so that you get used to talking about solutions aloud. For the qualifying exam, make and present a timeline of the necessary steps to complete your proposed project. It puts realistic parameters and expectations on your project for yourself and your committee.
Describe your experience as a Teaching Assistant (TA)
I spent the first year and a half (5 quarters + a summer) being a TA in the physics department. I chose to work in the physics department because I have a degree in physics and had done two years of physics education research. I taught most of the intro Physics for Engineers courses (PHYS 1-4) as well as the pre-med sequence (PHYS 6A-C). I had a great experience, compounded by the fact that I was able to teach the same year of undergraduate engineers for 4 consecutive quarters. I felt like I grew as an instructor while they grew into capable and resourceful students. Watching students evolve into better versions of themselves was one of the most rewarding things to watch as a TA. I don't teach in any formal capacity anymore, but schedule-permitting, I take any educational outreach opportunity I can get to continue teaching in some way.
Life as a graduate student
Quality of life as a graduate student and how you balance school, work, social, and family life
In addition to doing research, I am very active in the student organization the Photonics Society. It is the joint student chapter of the IEEE Photonics Society, OSA, and SPIE at UCSB. We host seminars by speakers we invite, organize an annual event such as last year's Light Science Workshop or this year's Banquet, and organize a yearly Women in Photonics Week. We are very active in educational outreach; we develop self-contained educational activities and run them several times a year in the SB community, reaching roughly a thousand people a year in the area. Being active in the Society has helped me network with others in the highly active local photonics community, as well as with members of the professional societies at conferences. Outside research and Photonics Society-related activities, I like to try to keep as regular a schedule as possible (i.e. business hours) so that when deadlines come up, I can really push to complete project milestones. I love doing research and the projects that I'm working on, but I realized that for me, in order to continue loving my research and having the energy to push through difficulties in my projects, I need to take time off from doing research.
What is your social life like and where have you lived?
I lived in San Clemente my first year because I didn't know anybody and thought it was a good opportunity to meet new people. I now live roughly a 15 min bike ride off campus in Goleta. I love that I can ride my bike to campus. The bike infrastructure on campus is very impressive, and easy to take for granted!
What did you do over summer break?
I plan on working on my research this summer, like most summers I've been here. The first summer I was here I TAed, and last year I did an internship at IBM Watson.
Advice to prospective graduate students
I'm very passionate about educational outreach and try to encourage other grad students to try it out. It's a way to share your expertise with the general public (mostly pre-university students). In addition, when you try explaining your research to kids and/or their parents, it forces you to think about your projects from a different perspective, which as invaluable ability for a researcher.
The ECE Current - "Student Spotlight: Takako Hirokawa" (page 5)