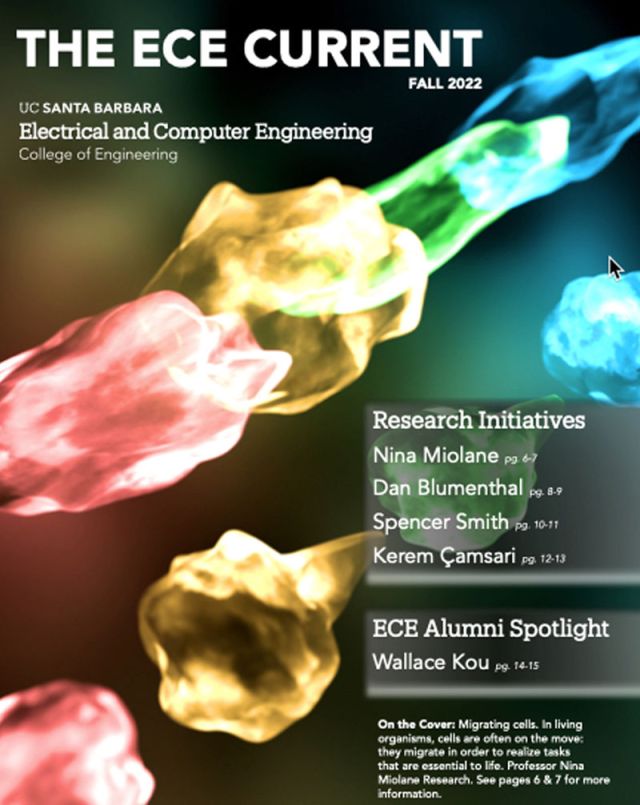 Table of Contents
Letter from B.S. Manjunath, ECE Chair: "This year we also have the largest number of students joining our CE and EE majors in the department's history"
In Memoriam: Arthur Gossard (1935-2022) – a pioneering scientist in materials that would enable the revolution in electronics and photonics
Spotlights: New Faculty — Ass't. Profs. Haewon Jeong and Yao Qin; Graduate Student Spotlight — Yujie Xia (Schow Group); Alumni — Wallace Kou, Founder, Silicon Motion
Research: ECE Research Initiatives — Ass't. Prof. Nina Miolane, BioShape Lab; Assoc. Prof. Spencer L. Smith, SLAB Neuroscience and Neuroengineering Lab; Ass't. Prof. Kerem Camsari, Orchestrating Physics for Unconventional Systems (OPUS) Lab; Professor Dan Blumenthal, Optical Communications and Photonic Integration (OCPI) Group
CE & EE Capstone 2022: Project Overviews and Capstone Event — sponsors and 1st place award winners
Recognitions: Faculty Awards — J. Buckwalter, K. Çamsari, Y. Isukapalli, U. Mishra, S. Mitra, S.L. Smith, Z. Zheng; Student Awards — Behm Scholarship (A. Atnafu, A. Lebus – CE); Fang Fellowship (E. Kayede – EE); Ed Hass Outstanding Junior Award (A. Koh – CE); Hynes-Wood Award (D. Hernandez-Vitela – EE); Outstanding Seniors (S. Lin – CE & A. Wang – EE); Outstanding TAs (C. Sanchez – CE & S. Pillai – EE); Outstanding Graduating Seniors (E. O'Mahony – CE & D. Hernandez-Vitela – EE); Roger Wood Scholarship Award (E. Hsieh – CE and S. Maldonado – EE); Rediker Scholarship (J. Oviedo – CE & D. Van Dalsem – EE; and 2022-23 ECE Donors & "Invest in the Department of Electrical & Computer Engineering"