2 ECEs Awarded at Competition Finals
Two ECE students, Athith Krishna (Tesserol) and Mihir Shevgaonkar (Solaris), honored at the finals of TMP's New Venture Competition (NVC)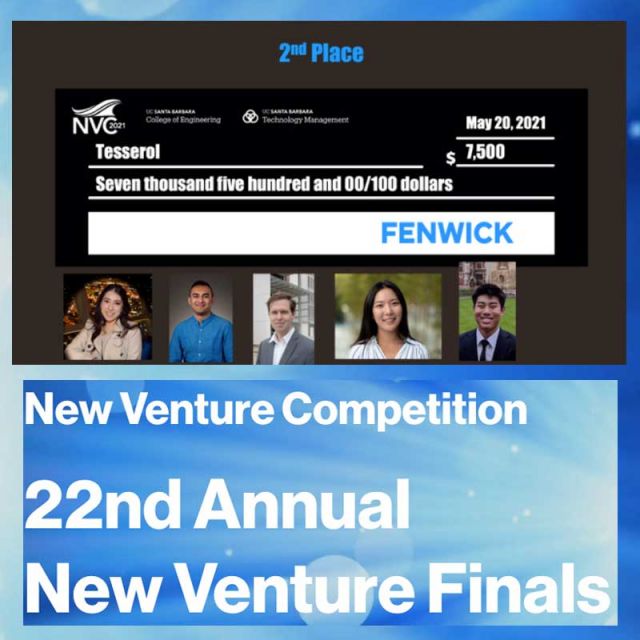 Based on the The UCSB Current article – "Prized Protection"
Tessoral places 2nd at the 22nd Annual New Venture Competition
ECE's Athith Krishna's Tessoral team pitched an ethanol fuel cell to power commercial drones that earned the 2nd Place Prize in UC Santa Barbara's 2021 Technology Management New Venture Competition (NVC). The group of five students bested four of the five other finalists to close out the eight-month tech business plan contest and take home the $7,500 Second Place Award.
Tesserol received the Best of Fair award to earn a total of $8,500 for the project that will power commercial drones for delivery, agriculture and surveillance with a the ethanol fuel cell replacement to similar-sized Li-Po batteries and H2 fuel cells. Also, Solaris a team that included ECE's Mahir Shevgaonkar, received an honorable mention for their design of autonomous infinity flight solar drones that can collect and analyze vast amounts of high-resolution data to optimize agriculture.
In other results, the First Place Award of $10,000 and the People's Choice Award of $5000 went to EEL Armor – a lightweight body armor made from a unique ceramic design. Third place and a check for $5,000 went to Ultim, designers of a cloud-based platform to help solve the $18 billion problem of lost luggage in the commercial aviation industry. The Honorable Mention teams of Scopen, Aquipur and Solaris each received a check for $2,500.
Teams were judged by a panel of tech entrepreneurship experts and investors that included Elizabeth Cholawsky, the chief executive officer of HG Insights; Michael Gross, the managing director of Beringea Venture Capital; and Alex Fang, a managing partner at Entrada Ventures, who earned his Ph.D. in electrical and computer engineering from UCSB.
For the second straight year, organizers implemented a virtual format for the annual competition to ensure that, during the pandemic, students would still have a live platform to showcase their innovation, dedication and hard work. All activities, the finals and last month's New Venture Fair took place over Zoom. The online nature of the events allowed students to think on their feet while interacting live with judges and audience members and answering their questions.
"This year was about making the best of a challenging situation, and the students really embraced that," said David Adornetto, Technology Management's entrepreneurship director. "Much of the early work of developing a new venture centers around customer discovery, which requires significant market interaction. The pandemic made that a much more difficult process, since there were no in-person meetings. The students were very resourceful in this regard and figured out other avenues to gain these important insights. Being entirely virtual also meant we could pull mentors into the program from anywhere."
The NVC Finals represent the culmination of a rigorous eight-month process open to students from all disciplines at UCSB. Mentored by a team of more than 40 individuals, who have lived and thrived in the fast-paced world of tech entrepreneurship, students in the program have the opportunity to hone their entrepreneurship skills, refine their business plans and practice pitching their stories and ideas. Of the 37 teams that began the program in October 2020, 12 were selected to participate in the NVC Fair, and six were selected to compete in the finals.
The UCSB Current – "Prized Protection" (full article)