Karnaty – 2021 CoE Outstanding TA
Graduating seniors in each degree program of UC Santa Barbara's College of Engineering selected an outstanding teaching assistant (TA) to recognize for his or her outstanding service and dedication to student success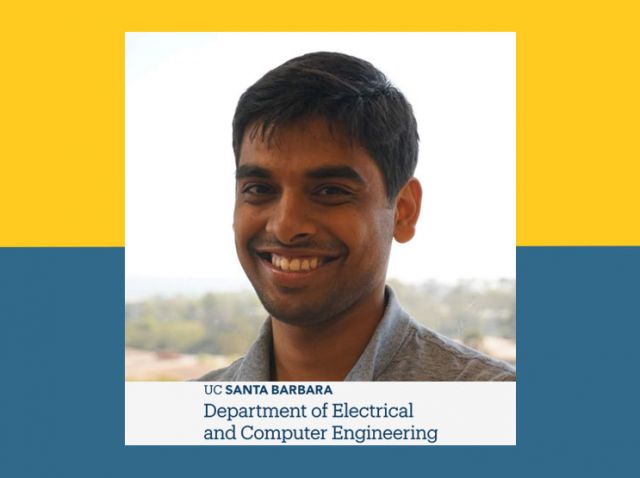 Excerpt from COE News article "CoE Announces Outstanding Teaching Assistants of 2020-21"
Born and raised in southern India, Rohit Karnaty is a fifth-year ECE PhD student, who is advised by electrical and computer engineering professor James Buckwalter. His research focuses on radio frequency (RF) circuit design and device modeling with special emphasis on gallium nitride. The Buckwalter group seeks to develop transmitters and receivers that can be used in 5G and beyond.
Karnaty served as the TA for communication electronics classes (ECE145A/218A, and ECE145B/218B), courses he completed in his first year or graduate school. He tried to help students focus on the important concepts they needed to take away from their assignments and labs rather than worrying about their grades.
"I am really honored to receive this award," said Karnaty, who majored in electrical engineering and minored in physics at the Indian Institute of Technology Madras. "I am pleased that the students found me to be helpful especially in these stressful times. It was also fun to interact with a lot of people even though we were all joining classes remotely from different places in the world."
Holding office hours and lab sessions remotely posed challenges to Karnaty and his students. He tried to be as flexible as possible when holding online sessions, even recording office hours so that he could make the videos of the meetings available to students who could not attend.
"I imagine it's been extremely tough for the Class of 2021 to try to graduate and work remotely during the pandemic, so they should be extremely proud of what they've been able to achieve this past year," he said. "I hope they cherish this moment before entering the next stage of life and use it as a source of inspiration for their future endeavors."
Karnaty plans to work in industry after completing his PhD. He says teaching has helped him have a deeper understanding of his field and made him a more confident researcher and teacher.
COE News – "CoE Announces Outstanding Teaching Assistants of 2020-21" (full article)