Mir – 2021 CoE Outstanding Senior
The College of Engineering recognizes the graduating senior w/ the highest GPA from each degree program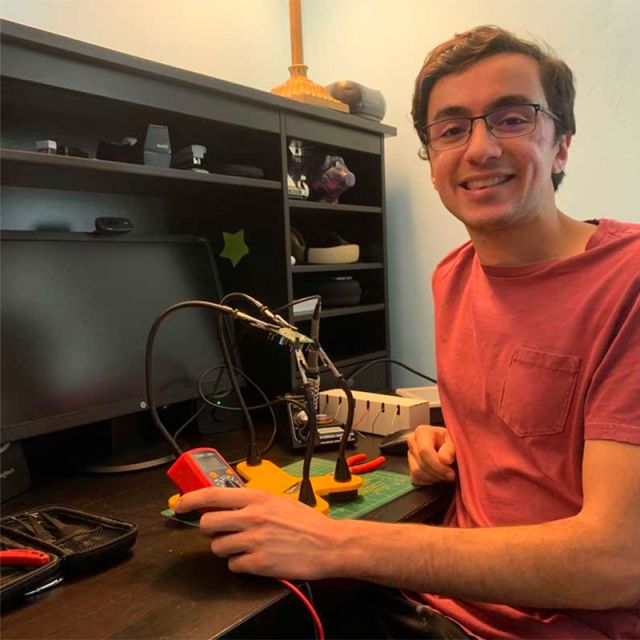 Excerpt from COE News article "CoE Announces Outstanding Seniors in Class of 2021"
While earning a 4.0 GPA, ECE student Navid Mir was active in the UCSB chapter of Tau Beta Pi, the nation's largest engineering honor society, and the Institute of Electrical and Electronics Engineers (IEEE).
"Receiving this award is a great honor," said Mir, whose parents both earned graduate degrees in electrical and computer engineering. "I believe that I put my best effort into my academic career, which was helped by the fact that it was so enjoyable to learn new things in electrical engineering. It feels great to be recognized for the work that I put in, and it means that much more coming from one of the top engineering schools in the nation." 
Mir, who is graduating with highest honors, said that during the pandemic he missed in-class interactions with his peers and professors but tried to stay as engaged as possible by asking questions during virtual classes and attending office hours. After graduation, he will continue his education by pursuing a master's degree in electrical engineering at UCLA, where his specific track will be on circuits and embedded systems.  
"My time at UCSB made me realize how much I love EE. I had so much fun and learned so much that I did not want to stop learning. I knew that I had to continue with school and gain more experience," said Mir, who expressed gratitude to professors Mark Rodwell, Ilan Ben-Yaacov, Forrest Brewer, Yogananda Isukapalli, and Hua Lee for their support over the years. "Being surrounded by enthusiastic and passionate people also made me that much more passionate about what I was doing, too."
COE News – "CoE Announces Outstanding Seniors in Class of 2021" (full article)