Henley Hall: Honors & Achievements
Henley Hall receives the The American Architecture Award and LEED Platinum certification from the US Green Building Council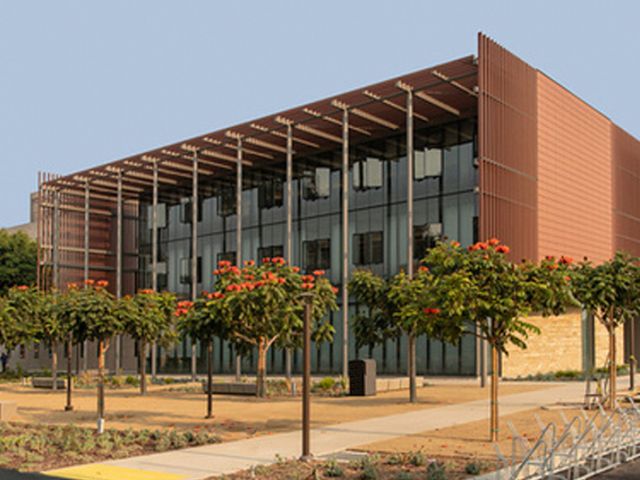 From The College of Engineering Convergence (S22) article "Henley Hall: Honors and Achievements"
Henley Hall, which opened in 2020 as the home of the College of Engineering's Institute for Energy Efficiency (IEE), received some major honors in 2021, earning The American Architecture Award as well as LEED Platinum certification from the US Green Building Council, its highest rating for energy efficiency and sustainability.
Presented jointly by The Chicago Athenaeum: Museum of Architecture and Design, and The European Centre for Architecture Art Design and Urban Studies, the American Architecture Award honors the best in new and cutting-edge design in the U.S. and promotes American architecture and design here and abroad. The firm Kieran Timberlake designed the building, which has been recognized further by the American Institute of Architects (AIA), receiving awards from chapters in Santa Barbara, the city of Philadelphia, and the state of Pennsylvania. It also received an AIA Committee on the Environment Award of Excellence, which recognizes one project each year that demonstrates the highest level of commitment to sustainable design.
UCSB alumnus Jeff Henley and his wife, Judy Henley, an honorary alumna, sparked the donor-funded project with a $50 million gift to the College of Engineering in 2012. Silicon Valley–based alumna Shawn Byers and her husband, Brook, also made a significant contribution.
"Henley Hall is a reflection of UC Santa Barbara's commitment to energy efficiency, and our campus is thrilled that this state-of-the-art building has been nationally recognized for its innovative architectural design and superb sustainability," said Chancellor Henry T. Yang. "We are immensely grateful to donors Jeff and Judy Henley, and Shawn and Brook Byers for their tremendous vision and generosity in making Henley Hall — and these subsequent recognitions — a reality."
The 50,000-square-foot building, a model of efficiency that was constructed with more than twenty-percent recycled materials, includes passive features such as solar shading and a high-performance "skin," and active features that include demand-controlled ventilation and high-efficiency lighting modulated for occupancy and outdoor conditions. The building's extensive natural lighting, intelligent energy monitoring and control systems, and LED lighting yield a forty-percent energy savings over similar lab buildings.
Henley Hall is also a state-of-the-art research-and-learning facility, with both wet and dry labs, collaborative break-out spaces, conference rooms, a 124-seat lecture hall, and faculty and administrative offices. On the east side of the building, workspaces and offices have operable windows that stimulate airflow through an open, light-filled multistory atrium. On the west side, where labs are situated, air-monitoring and occupancy sensors reduce energy use for ventilation while protecting the safety of occupants and their research.
"We designed Henley Hall to be energy-efficient from the ground up," said John Bowers, IEE director and a professor of electrical and computer engineering. "It is great to have received such recognition for those efforts."
Bowers, the Fred Kavli Chair of Nanotechnology, describes Henley Hall as "a wonderful building to work in," adding, "The natural ventilation gives it a fresh, clean feel that we all love."
The ethos of the institute perfectly matched that of Kieran Timberlake. "We are honored to have worked with UC Santa Barbara to make Henley Hall the ideal home for the IEE," said Jason Smith, a partner at the firm. "Our expertise in innovative, sustainable design aligns with their forward-thinking mission to create new technologies in pursuit of an energy-efficient future."
"Energy efficiency is key to solving climate change and making U.S. industry more efficient in terms of energy use and expense," Bowers noted. "Henley Hall is essential to expanding UCSB's contributions in that important area."
COE/CLS Convergence magazine (S22) - "Henley Hall: Honors and Achievements" (pg. 4)