Hernandez-Vitela: Hynes-Wood Award
Every spring, the College of Engineering at UC Santa Barbara bestows four special honors upon graduating seniors who excelled both inside and outside of the classroom with EE undergraduate Daniel Hernandez-Vitela receiving the 2022 Hynes-Wood Award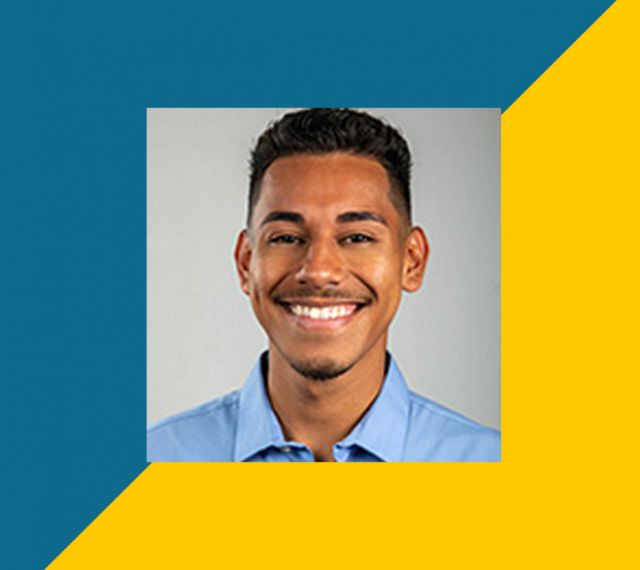 Electrical Engineering student Daniel Hernandez-Vitela has received the 2022 Hynes-Wood Award in recognition of his selfless contributions to student activities at UC Santa Barbara. He is receiving a bachelor's degree with a specialization in radiofrequency engineering. Since his first quarter at UCSB, Hernandez-Vitela has been an active member of Los Ingenieros (LI), the university's chapter of the Society of Hispanic Professional Engineers.
"I am greatly honored to have been selected for this recognition," said Hernandez-Vitela, a first-generation college student who grew up in Oxnard and graduated from Channel Islands High School. "This award makes me feel appreciated, and it's good to know that all of the time and effort I invested paid off and allowed me to positively impact several lives along the way." 
Through LI, Hernandez-Vitela was informed of several research opportunities and learned resume techniques that landed him an opportunity in the Robotics Lab, where he worked on path planning and tracking for autonomous cars. That early research experience paved the way for him to secure future internships and join the LI Executive Board as an academic chair, internal vice president, and co-chair. He also credited LI for allowing him to get over imposter syndrome, a feeling that leads many students, and especially those from underrepresented groups, to question whether they belong at UCSB. 
"Breaking away from that mindset allowed me to reach my full potential and accomplish things that I never could have imagined. This put me in a position where I am able to help my surrounding community grow and succeed academically, professionally, and interpersonally," said Hernandez-Vitela, who fell in love with UCSB during a campus visit as a sophomore in high school.
Hernandez-Vitela said that a sequence of communication-electronics courses exposed him to the field of radiofrequency and allowed him to gain the foundation and knowledge that he will be using after graduation as an RF/microwave engineer at Keysight Technologies.
"I am thrilled to say that I gained a bachelor's degree in electrical engineering from UCSB, not only because it is a top engineering school, but also because it's my dream school," said Hernandez-Vitela. "Ultimately, I would like to thank the Promise Scholars Program, because they provided me with several resources as well as financial support. This allowed me to focus on my academics and extracurricular activities, which were vital to my success at UCSB."
The College of Engineering established the Hynes-Wood Award thirty-five years ago in honor of Dr. Jacqueline Hynes, the former assistant dean for academic programs in engineering, and the late Dr. Roger Wood, a beloved electrical and computer engineering professor and former associate dean of academic affairs. 
The UCSB Current "COE Announce Prestigious Student Awards for Class of 2022" (full article)