Pillai: COE Outstanding EE TA
Graduating students in each undergraduate degree program within UC Santa Barbara's College of Engineering select one outstanding teaching assistant (TA) to recognize for his or her service and dedication to student success with Electrical Engineering Swetha Pillai receiving the recognition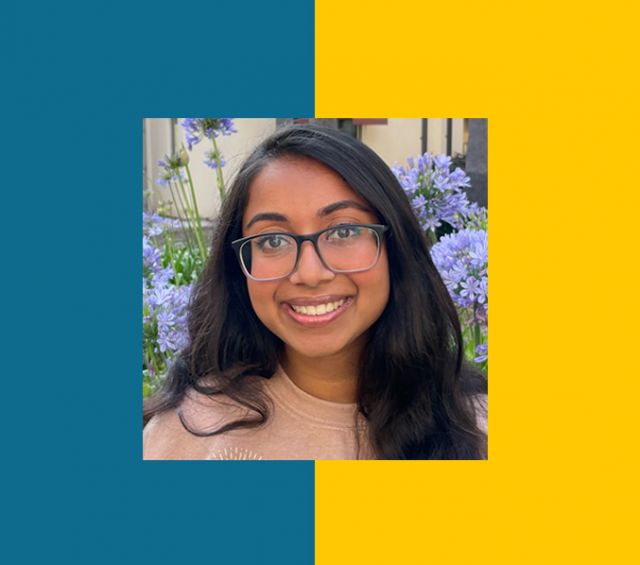 During her final year of the five-year BS/MS program in electrical and computer engineering (ECE), Swetha Pillai served as a teaching assistant for two upper division ECE courses. Apparently, she made quite an impression on her students, as graduating seniors selected Pillai to receive the 2022 Outstanding Teaching Assistant Award for the Electrical Engineering Department.
"I'm very honored to receive this award," said Pillai, who conducted undergraduate research for electrical and computer engineering professor Luke Theogarajan, working on hardware-software interface of systems. "I'm glad I was able to help out wherever I could and have a positive impact on my students."
Pillai said that the pandemic created a need to adapt to the online-learning format. She made tools and references that students could look back on if they could not make it to class or wanted to revisit a topic. She also tried to be as accessible as possible to students, whether in person, on Zoom, or by email. Pillai said that she had several helpful TAs when she was an undergraduate student and used them as inspiration.
"I picked out what worked the best for me personally and extended that in my teaching style," said Pillai, who also drew motivation from Professor Yoga Isukapalli, in whose classes she worked as a TA this year. "I tried to help students build their intuition from the ground up, starting with the most basic concepts until they could come to the answer themselves. I feel that it's especially rewarding when you can figure it out on your own, with just a small push in the right direction."
Pillai said that it was also important to be relatable and approachable to her students.
"I strived to create a safe environment, so students were comfortable asking questions about their work or even about their endeavors outside of class," said Pillai, who urges graduates to continue pursuing knowledge and discovery, and never be afraid to ask for help. "There is no problem that can't be solved. I say this because we tend to fixate and stress on things, inside and outside of class. And sometimes, it may seem like the end of the world, but there will always be a solution."
Pillai will enter the workforce after graduation as a machine learning engineer at ServiceNow in the Bay Area.
The UCSB Current "Grateful Grads: Class of 2022 Names Outstanding Teaching Assistants" (full article)