UCSB among Top University rankings
From impact to academics to outcomes, UC Santa Barbara ranks among the nation's top universities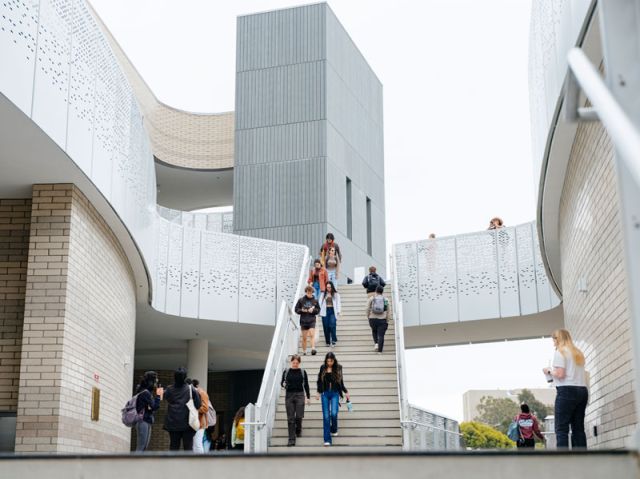 In student outcomes and academics. In affordability and social mobility. For return on investment. For overall excellence. In multiple rankings across an array of metrics, UC Santa Barbara continues to place in the upper echelons of higher education.
Forbes magazine, which showcased 500 of the finest U.S. institutions of higher education in its 2023 America's Top Colleges list, ranked UC Santa Barbara as the No. 5 public university in the country. Forbes evaluates universities based on measures including alumni salary, student debt, return on investment, graduation rate and academic success.
Assessing the nation's top public universities for return on investment, Princeton Review ranked UC Santa Barbara the No. 6 Best Value College in the country. The campus also landed on Princeton Reviews' list of top public schools for professional outcomes, ranking UC Santa Barbara No. 14 for Best Career Placement.
For its 2023 Best Colleges rankings, Money magazine assessed more than 700 four-year institutions based on quality, affordability and student outcomes. Using a star system rather than numbered rankings, UC Santa Barbara earned 4.5 stars.
U.S. News & World Report, in its 2023–2024 Best Colleges listing, ranked UC Santa Barbara the No. 12 public university in the country. Among all Best National Universities, which include both public and private institutions, UC Santa Barbara placed No. 35.  The campus ranked highly in multiple U.S. News categories. Among all national universities ranked as Best Colleges for Veterans, the campus is No. 19. UC Santa Barbara ranked No. 31 among all national universities for Social Mobility, which measures how successfully schools enroll and graduate students who receive federal Pell Grants. These students typically come from households with family incomes less than $50,000 annually, with most Pell Grant money going to students with a total family income below $20,000.
It's not just magazines placing the campus in its upper ranks.
The Peace Corps, based on an annual list it has issued since 2003, UC Santa Barbara ranked No. 13 among the agency's all-time top volunteer-producing colleges and universities. More than 1,738 UC Santa Barbara alumni have served abroad as Peace Corps volunteers since the agency's founding in 1961.
The U.S. State Department has twice named UC Santa Barbara a Fulbright Hispanic-Serving Institution (HSI) Leader, citing the university's deep commitment to international exchange and to building lasting connections between scholars in the United States and people around the world.
The campus each year sees multiple faculty members named to the Clarivate Analytics (formerly Thomson Reuters) list of highly-cited researchers, a key metric of research influence and impact. Their most recent ranking included 10 UC Santa Barbara scientists and social scientists. Clarivate in 2023 also placed UC Santa Barbara among the top 50 research organizations worldwide whose work is most often cited by their Top 100 Global Innovators 2023. These are institutions whose intellect underpins the design of engineered solutions.
For years, UC Santa Barbara has been a perennial leader among public universities in percentage of eligible assistant professors receiving prestigious Early CAREER Awards from the National Science Foundation. NSF annually invests millions in the campus by way of these and other grants, such as the recent $20 million award to fund the AI Institute for Agent-based Cyber Threat Intelligence and Operation, a multi-institution endeavor being led by UC Santa Barbara.