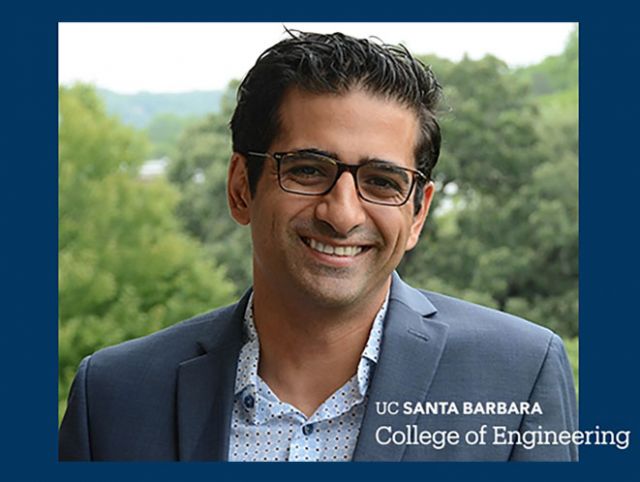 COE Q & A with New Faculty – Kerem Camsari
UCSB's College of Engineering will welcome seven new faculty during the fall quarter, including Kerem Camsari, who is joining the Electrical and Computer Engineering Department as an assistant professor.
Camsari earned his PhD from Purdue University, where he then continued as a post-doctoral researcher. Recently, we asked him some questions to learn more about one of our newest faculty.
Here's what he had to say:
Q: What is the focus of your research?
A: My lab, which we are calling the Orchestrating Physics for Unconventional Computing, or OPUS Lab, has a physics-to-systems focus that aims to exploit unique features of novel materials and phenomena to design and experimentally prototype efficient electronic circuits and architectures. Our philosophy is that such an interdisciplinary approach, which connects materials, devices, and circuits to architectures and algorithms is essential in the new era of electronics, which will be driven by heterogeneous systems in domain-specific contexts. This is in stark contrast with the Moore's Law–driven era that was about optimizing and improving a single device, the field-effect transistor, to deliver more powerful computing systems.
Q: How did you become interested in these specific fields of research?
A: My initial background was in microelectronics and nanotechnology, more on the physics side of the spectrum. But the slowing down of Moore's Law made it more important to think about systems that contain many interconnected devices. Knowing a lot about unique features of devices and emerging technologies drove us to propose and prototype new types of circuits that can outperform devices built using conventional technology.
Q: What are the real-world implications of your research?
A: A common view that has been emerging in our field is that the end of Moore's Law is going to lead to an explosion of domain-specific devices that are good at some particular task, unlike our general-purpose computer, which try to be good at any computational task. Indeed, we are already seeing the proliferation of such hardware accelerators, or chiplets, which optimize specific tasks for machine learning, for example. Even quantum computing could be viewed from this perspective: quantum computers are not going to replace our digital computers, but they will be very useful for specific applications, like simulating quantum mechanics.
Similarly, our lab's work in the area of "probabilistic computing" is meant to lead to efficient hardware accelerators for tasks that are naturally probabilistic. This area contains very difficult problems such as optimizing travel routes, recognizing images in probabilistic contexts, drug discovery, and many others. One thing that we recognized early on is that many real-life problems operate against a probabilistic backdrop, and finding building blocks that are naturally probabilistic is a very promising approach to accelerate the solutions for these problems.
Q: How excited are you to join your department?
A: I am thrilled to join UCSB ECE, especially since our department has an incredible electronics and photonics group (on the physics end of the spectrum) as well as an equally strong computer engineering group (on the systems end of the spectrum). This provides a very fertile background for our lab's MO, which is to try to contribute to, and operate between, these areas.
To learn more about Kerem:
Q: What were some of the top reasons why you wanted to work at UCSB?
Q: How are you adjusting to your new role during these unprecedented times?
Q: Tell us something interesting about yourself unrelated to work and research.
COE News – "Q&A with New CoE Faculty: Kerem Camsari" (full article)
Camsari's Orchestrating Physics for Unconventional Computing (OPUS Lab)