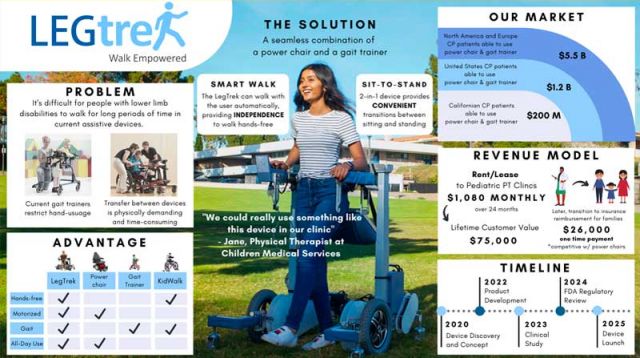 In the Classroom: ECE 188 Sr. Project "Legtrek"
Article from The ECE Current - Fall 2020
During the 2018-2019 academic year, a team of 11 undergraduates the ECE and ME departments took on a challenge posed by Sophie, a local seventh-grader, for their senior Capstone project. Sophie has triparetic cerebral palsy and uses a power chair for mobility, but would really like to walk because she dreams of one day being a teacher or owning a bakery. Her challenge to the students was to build her an assistive walking device.
With guidance from Sophie, her mother, and her physical therapist, the team designed and built LegTrek, a device that provided Sophie the comfort and stability needed for her to walk and which could also convert to a seated device much like her powered wheelchair.
The following year, while completing their MS degrees in ECE at UCSB, LegTrek veterans Kevin Huynh-Tran and Brandon Luu began looking into the possibility of commercializing LegTrek so that the millions of other children who, like Sophie, are confined to a wheelchair would also someday be able to walk. They assembled a team that also included Biological Sciences major Alice Wen, Sociology major Saloni Methi, and Economics major Matthew Davies. The team worked hard to create a business plan that they could enter in the UCSB New Venture Competition (NVC). As part of this effort, they demonstrated their device at the Abilities Expo in Los Angeles, where they were able to connect with and receive feedback from numerous experts in adaptive activities.
The team presented the initial version of their business plan at the UCSB New Venture Fair, where they were selected as one of five teams to advance to the New Venture Competition Finals. At the NVC Finals, the team presented their business plan to a panel of three judges. They received second place overall and were awarded $7500.
Technology Management Program (TMP) - New Venture Competition (NVC)
LegTrek's COE Senior Capstone Project