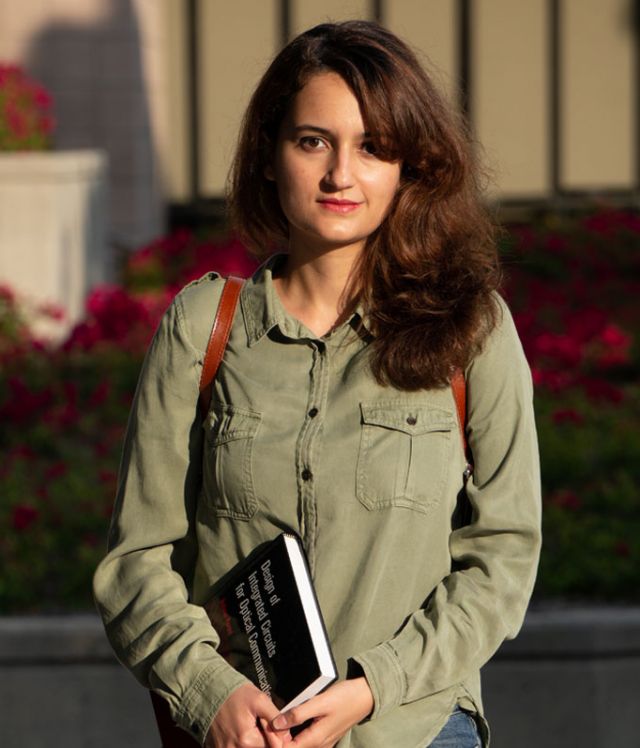 Graduate Spotlight: Mitra Saeidi – PhD student in Electronics & Photonics
In her own words – Interviewed during Summer of 2021
Mitra's Research
Main Area of Research: Energy efficient high-performance CMOS Integrated Circuit (IC) Design
Research Interests: High Speed Circuit Design, Transceiver, Biosensing, Delta Sigma ADC, Current Sensing Interfaces
Important Awards & Honors: Herbert Kroemer Dissertation Fellowship 2021
Professional Memberships: Institute of Electrical and Electronics Engineers (IEEE)
Hobbies and Interests: painting, gardening, hiking and playing tennis
Favorite things about
Department: Cutting-edge research, outstanding faculty, and collaborative environment
UCSB: Great location! Taking a short walk on campus towards the ocean or lagoon always helps in stressful times
Santa Barbara: Amazing weather, beautiful places, and great opportunities for outdoor activities
Mitra and her research
Tell us about your research:
My main expertise is in integrated circuit (IC) design. During my PhD, I worked on IC design for two different applications with an emphasis on area and power consumption reduction. Compact and energy-efficient high-speed transceivers for data centers and low noise, scalable biosensing interfaces are the two main research areas that I have worked on.
How and why did you get into your area of research?
I have always been amazed by how the invention of transistors transformed electronics which led to IC design. I got familiar with circuit design in my undergrad courses, and I chose to pursue circuit design in my Masters which made me realize there is a lot of room for innovations and improvements in this area. During my Ph.D. it was even more interesting for me since I got more involved with the applications.
Why did you select UCSB and ECE in regards to your research?
UCSB has a great environment for research and ECE has outstanding faculty. UCSB location was also one of the factors.
What do you find rewarding about your research?
Designing an Integrated Circuit usually takes a long time from schematic design to layout, fabrication and getting the actual IC in hand and designing a PCB to test the IC that you put so much time and effort into designing. So, seeing a circuit designed by me that works properly is extremely rewarding.
Thoughts on working in a group research environment:
Since there can be many failures and times that you feel you are not moving forward in research, working in a group and with an advisor is crucial. Many times, discussing the problems with lab mates helps you think of new ways to try. My advisor is always very helpful when I am feeling that I am hitting a barrier in my research. We talk about the problems and come up with ideas to try and usually it goes forward after our discussions.
UCSB Prides itself on its collaborative atmosphere, give some examples of how you collaborate:
I mostly collaborate with other groups in ECE and it is a great experience. For example, we worked on interdisciplinary research projects with Professor Bowers and Professor Schow's groups on electronic and photonic integration. Professors and people in other groups have always been helpful and they kindly respond to all my questions regarding their area of expertise.
Academics at UCSB
Strengths of the graduate program:
The distinguished faculty and research-oriented courses.
Favorite course:
High Performance Digital Design (ECE 223) instructed by Prof. Theogarajan. This course helped me to achieve a deep understanding of digital design thanks to Prof. Theogarajan's amazing teaching. I also liked Embedded System Design (ECE 253) instructed by Prof. Brewer, where the course along with the projects were especially aimed towards understanding both hardware and software operating together.
Describe your Teaching Assistant (TA) and Graduate Student Researcher (GSR) experiences:
My first year as a graduate student, I TAed the Foundations of Analog and Digital Circuits & Systems (ECE 10A & B) course which also included teaching labs. As a GSR, my research is mostly designing circuits using circuit design software and testing the ICs in the lab when they are fabricated.
Life as a graduate student
Quality of life as a graduate student and how you balance school, work, social, and family life:
Sometimes, as a graduate student, the amount of workload increases considerably due to the project deadlines, but it is important to take breaks from work. Santa Barbara's weather, amazing sunsets, nice people and UCSB's location moves you towards a great balance.
What is your social life like?
I have wonderful friends in and outside my department. I live in UCSB family housing, and I love it. It is located close to the ocean and many of my friends also live in family housing. Occasionally, we go for a walk from our apartments to the ocean. Mostly, I spend time with my husband.
Tell us about your summer break:
I am mentoring in the Center for Science and Engineering Partnerships (CSEP) program. Since I am graduating this summer, most of my time is spent writing my dissertation.
Advice to prospective graduate students:
It is very important to find a balance between work and life. Being at UCSB is a great opportunity to perform pioneering research while taking advantage of the city, ocean, and outdoor activities.
Future Plans...
Where will your research take you next?
I will be pursuing my career by going into industry in my field of research.