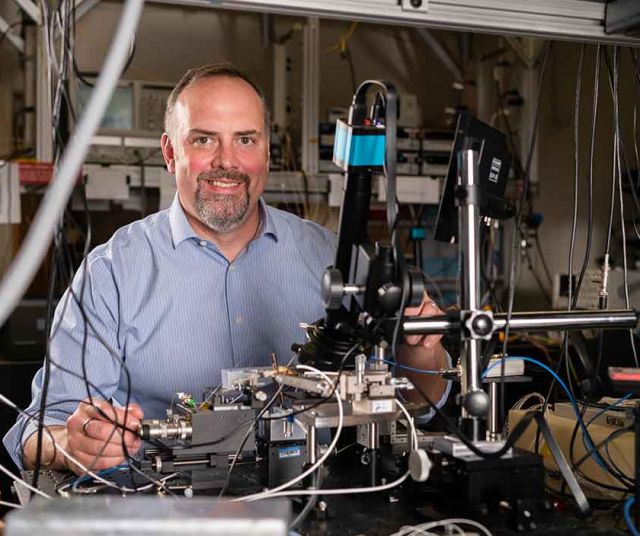 Research Initiative: Professor Clint Schow
Before coming to UCSB in 2015, Professor Schow spent 16 years in industry focused on developing highly-integrated electronic/photonic subsystems to maximize the speed and efficiency of optical interconnects in HPC systems and datacenters. At UCSB, his group continues to advance electronic and photonic integration for system-level performance and efficiency gains. Professor Schow is the Director of the Optoelectronics Technology Center, founded by Professor Larry Coldren in the 1990s with a rich history of achievements in photonic integrated circuits, and his group operates a lab with state of the art capabilities in high-speed test equipment and packaging.
His current students include Takako Hirokawa, Yujie Xia, Hector Andrade, Steven Estrella, Stephen Misak, Aaron Maharry, and Junqian Liu, and they are engaged in projects spanning development of optical transceiver engines for electronics co-packaging, all-optical wavelength-selective switches, low-power vertical cavity surface emitting laser (VCSEL) multimode fiber links, and high-speed photonic links operating at cryogenic temperatures. Schow's group actively collaborates with industry, working with companies such as Facebook, Intel, Freedom Photonics, CableLabs, and Mellanox (now part of Nvidia). Over the past few years, students in the group have interned at IBM Research and Intel, gaining valuable experience and perspective.
Learn more about
Enabling Future Generations of Datacenters and Supercomputers
Integrating Electronics and Photonics to Maximize Bandwidth and Efficiency
The ECE Current – "Research Initiative: Professor Clint Schow" (full article pgs 6-7)