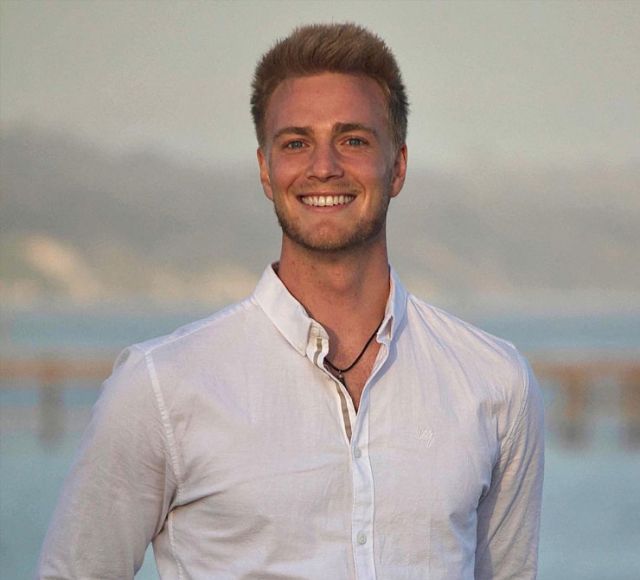 Undergraduate Spotlight: Blake Russell – Class of 2022
In his own words – interviewed Spring Quarter 2022
Hometown: Blue Lake, California
Year: Senior
Favorite ECE Course: Sensor and Peripheral Interface Design (ECE 153B)
Senior Project: Infrared Calibration Source
Student Organizations: National Society of Leadership and Success
Last Book Read: The Power of Habit by Charles Duhigg
Interesting aside about you: I have been to over 10 national parks in the U.S.
Blake's Favorite
Band / Performer: Fleetwood Mac, Kendrick Lamar, Kid Cudi
Sport: Basketball and Surfing
TV Show: Ted Lasso, Stranger Things, Dave
Activity: Basketball and Surfing
Movie: Coach Carter
Hobbies: Basketball and Surfing
Book / Author: University Physics with Modern Physics 14th Edition by Hugh D. Young, Roger A Freedman
Geeky Possession: My basketball and surfboard
Favorite things about
ECE Department: It's a well-rounded curriculum. The undergraduate program offers a great foundation for designing circuits, signal processing, computer engineering, etc. I like that I was given a lot of options.
UCSB: The work hard/play hard culture. The students are laid back and enjoy having fun, but are also very motivated when it comes to academics.
Santa Barbara: The location is incredible. There are plenty of outdoor activities to do between the beaches and mountains. There is a rich nightlife and a lot of great wineries around here too!
Blake and Electrical Engineering
Why EE as a major? Since I was a freshman, I was really impressed by the projects that students were able to design and build after just four years. I knew that this major would be a great challenge, but very rewarding for me!
Why did you select UCSB's EE program? I had a lot of friends that went here and heard it was a great school next to the beach. What's not to like?
How did you hear about UCSB's EE program? Honestly… Google!
Prospective students and parents often ask, what can you do with an EE degree? Structural Engineering companies need electrical engineers to design power distribution systems, fire detection systems, etc. when they're building skyscrapers, stadiums, or other buildings. In the consumer electronic space, EE majors can develop code and/or hardware for products that companies sell. There are way too many options to write down, so I'll leave the rest up to your imagination.
The Curriculum
What have you learned that has surprised you the most so far? In a lot of situations, people skills and connections can go a lot further than most technical skills. Your technical education is incredibly important, but I strongly recommend building a lot of genuine connections.
What has your experience been like taking the Math and Physics core classes? Physics is a really important subject to learn for the basic understanding of how all electronics work. However, you need to have a thorough math background to understand physics. They're both important to succeed.
What has been your most challenging but rewarding course? Hardware / Software Interface (ECE 153A) was the most challenging because of the amount of work and how difficult it was at the beginning of the quarter. However, it gave me a great understanding of how software interfaces with hardware. I think it's a great bridge for any EE student looking to get more involved with software.
Are there any specific classes that you are looking forward to? Sensor and Peripheral Interface Design (ECE 153B) is an amazing class. I have heard nothing but great things about it from other students as well!
Talk about your Senior Capstone project course (ECE 188ABC) experience so far: I am designing and building a low-cost, precision temperature source that improves the accuracy of thermal imaging devices by avoiding errors in temperature readings. This class helps students work on skills that cannot be taught in the classroom like project management, vendor selection, and other leadership skills.
What area do you want to specialize in? I wish I knew!
Have you done an internship? I have worked at two internships: Electro Optical Industries (close by UCSB in Goleta) and Wyatt Technology Corporation (Santa Barbara). They taught me a lot of design skills, workplace etiquette, and how to work in a team to get the job done!
Preparation from High School to College
What prepared you the most for studying engineering in college? Having a solid foundation of hobbies and interests outside of the classroom. It's important to have an outlet to relieve stress when school gets difficult.
Are there any classes that you suggest EE students take before entering UCSB: Any physics classes that you can take will help you.
Any additional experiences that you would like to share with students to help them prepare for college? Embrace failure because it's going to make you better in the long run. If you aren't failing, then you probably aren't growing as a person.
Student Life at UCSB
What is campus life like for EE students? It's great! Most days of the year are sunny and people are generally walking on campus with a smile on their faces. The bike path is a different story… it's survival of the fittest.
What is the social scene like on campus, in Isla Vista, and off-campus like for EE students? It's great for people who like to go to the beach, dance to music, and socialize with friends late at night.
Describe your housing experience frosh to present: The housing scene can be difficult to break into. I would say that it's more important who you live with rather than where you live. Try to find a solid group of people that can respect your needs and you'll be okay!
After Graduation
What are your "big picture" plans/aspirations after graduation? I plan on working in the engineering industry for a couple of years to figure out what I want to specialize in and then go back to school for a master's degree!