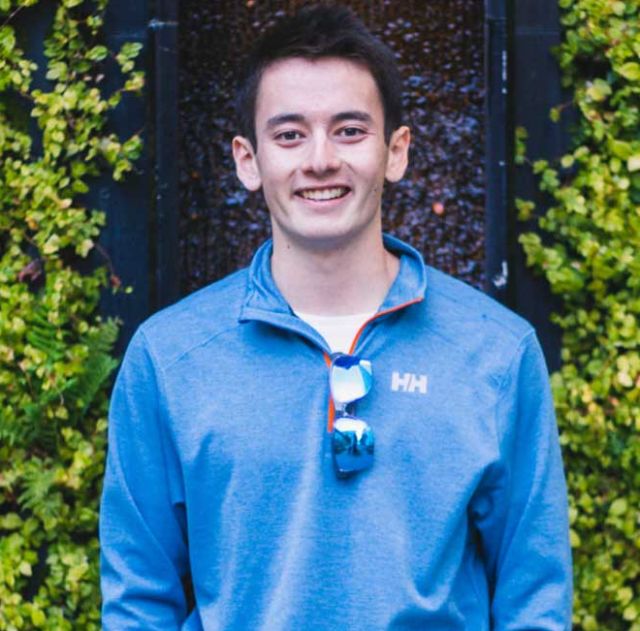 Undergraduate Spotlight: Justin Kim – Class of 2022
In his own words – interviewed Winter 2022
Hometown: San Jose, CA
Year: Senior
Favorite ECE Course: Integrated Circuits (ECE 120B)
Senior Project: Distributed MIMO Radar for Autonomous Vehicle Safety
Student Organizations: Tau Beta Pi (The Engineering Honors Society) and UCSB Club Tennis
Last Book Read: The Art of War by Sun Tzu
Interesting Aside about You: I have a twin brother
Justin's Favorite
Hobbies: Tennis, golf, snowboarding, hiking, or anything outdoors
Band / Performer: Jordan Davis
TV Show: The Mandalorian
Book / Author: The Subtle Art of Not Giving a F*ck by Mark Manson
Activity: Sports or working out
Sport: Tennis
Geeky Possession: In my wallet, I carry around a credit card sized multi-tool that functions as a ruler, protractor, and compass in both imperial and metric units
Favorite things about
ECE Department: The students and the faculty. All of the students are super friendly and always willing to help; there is never a sense of competition between you and your classmates. Additionally, the professors and teaching assistants (TAs) want you to succeed and will take additional time out of their busy schedules to help you understand a topic.
UCSB: Definitely the location. Our campus sits on a peninsula so you get great ocean views from wherever you are on campus.
Santa Barbara: The weather is amazing all year long and there are a ton of things to do outside if you like staying active. The scenery makes any surf session, run, bike, or hike feel like you're on vacation.
Justin and Electrical Engineering
Why EE as a major? I was always good at math and science in school and knew that I would eventually want to work with smartphones and computers, so after further research EE seemed like the perfect fit for me.
Why did you select UCSB's EE program? I really liked how UCSB was a smaller school but still had such a large presence in multiple research fields. This meant that I could better interact with my peers and get to know the professors due to the smaller class sizes. Also, the location was unbeatable.
How did you hear about UCSB's EE program? I found out about UCSB's EE program by a simple google search. I was interested in UCSB for its beautiful location but was then blown away by the engineering program when I visited the school for a tour.
Prospective students and parents often ask, what can you do with an EE degree? The great thing about an EE degree is that it is very broad. Based on your interests you can gear the degree into any direction you want: signal processing, analog and/or digital circuit design, embedded systems, photonics, materials, or a mix of any of these. You can even go into management with the help of UCSB's Technology Management Program.
The Curriculum
What have you learned that has surprised you the most so far? What surprised me the most was how every subfield of EE connects in some way. I specifically saw this in my communication electronics courses (ECE 145A/B/C). The material draws on basic circuit theory (ECE 10A/B/C), signal processing (ECE 130A/B), transistor circuit design (ECE 137A/B), electromagnetics (ECE 134), semiconductor devices (ECE 132), and integrated circuits (ECE 120A/B). The intersection of all of these subfields is quite beautiful and makes you truly appreciate the world around you.
What has your experience been like taking the Math and Physics core classes? I had a lot of fun taking these core classes because I got to take them with my roommates who were mechanical engineering and computer science majors. These courses are your typical large lecture hall classes with a few hundred students. For me, a few of these courses were repetitive from high school but reviewing the topics strengthened my fundamentals and made upper division classes much easier. Therefore, I highly recommend taking as many AP math and physics classes as possible in high school as it'll make the material second nature by the time you reach your harder major classes.
What has been your most challenging but rewarding course? The most challenging course was definitely Semiconductor Devices (ECE 132). The professor who taught the class is known to be incredibly tough, in addition to the material being inherently difficult to grasp as it builds upon quantum mechanics. However, I was able to succeed by constantly attending office hours, reading the textbook, and reviewing the material after every lecture. Despite many hours studying, the class was incredibly rewarding because it taught us to view circuits from a first principles perspective.
Are there any specific classes that you are looking forward to? I'm looking forward to taking the graduate version of Semiconductor Devices (ECE 220B). In this class, we build upon the fabrication techniques we learned in ECE 120A/B and fabricate our own Gallium Nitride High Electron Mobility Transistor.
Talk about your Capstone (ECE 188ABC) experience so far: Capstone is by far the most technical project I've ever worked on. My team is working on a Distributed MIMO Radar System in which we wirelessly synchronize multiple radar nodes to help eliminate the problem of sensor interference for autonomous vehicles in highly dense urban environments.
What area do you want to specialize in? I want to specialize in communication electronics and high frequency circuit design. After working in Professor Buckwalter's lab, I was shocked at how much of an impact I can have on next generation wireless systems as an electrical engineer.
Have you done an internship? I have had one internship. It was during the summer after my first year and I continued it for a few months into my second year. I worked at Cupertino Electric in San Jose as an intern and project coordinator. Although not super technical, I gained a lot of useful experience in terms of how to manage a project, interact with team members, and effectively convey information to senior management.
Have you had any on-campus research opportunities at UCSB? I have done research in two professors' labs throughout my time at UCSB. During my third year, I worked with Professor David Stuart in the physics department on designing a mixed signal PCB capable of detecting single photons. For my second research experience, I demonstrated a 2x2 Line-of-Sight Multiple-Input-Multiple-Output wireless communication link in Professor Jim Buckwalter's lab during the summer after my third year. For both of these opportunities, I have had no previous interaction with these professors and just cold-emailed them for a chance to talk. If you're interested in someone's research, I highly encourage you to reach out to them because you never know what can come of it.
Preparation from High School to College
What prepared you the most for studying engineering in college? Taking both AP Calculus AB and BC, along with tutoring calculus for two years definitely helped me the most. By the time I entered college, I had such a solid foundation in math that I could really appreciate and focus on the application of the higher level math courses as opposed to getting stuck in understanding why calculus is the way it is.
Are there any classes that you suggest EE students take before entering UCSB? I highly recommend taking AP Calculus BC and as much AP Physics as you can. The AP Calculus will pass you out of some introductory calculus classes but also provide a great foundation for future coursework. The AP Physics classes won't pass you out of any classes but again will provide a great foundation for future classes to build on top of.
Any additional experiences that you would like to share with students to help them prepare for college? Slow down and don't be so worried about the future. Just find something you are truly passionate about and focus on that. Also, everyone learns and grows at their own pace, don't compare yourself to what everyone is doing. Trust me, focus on yourself, find your passion, and great things will come because of it.
Student Life at UCSB
What is campus life like for EE students? Campus life is pretty similar to other majors for EE students. There will definitely be some long nights but if you manage your time well you can easily get involved in multiple clubs and intramural sports teams.
What is the social scene like on campus, in Isla Vista and off-campus like for EE students? As you always hear, "college is what you make of it." There will be tons of opportunities around campus and in Isla Vista to get involved in clubs, organizations, and sports teams, so don't be afraid to meet someone new! I also recommend getting to know people outside of your major as well. It'll help you take your mind off the multiple labs you probably have due next week and expand your perspective on the world around you.
Describe your housing experience frosh to present: I did the Freshman Summer Start Program (FSSP) which means I moved in and started taking classes six weeks before the regular freshman class. This meant that I lived in San Nicholas with other students who did FSSP. I ended up meeting a friend on my dorm floor and we got close to some of the other students who went to my high school. So for sophomore year, the six of us moved into a house in Isla Vista (IV) and have been together in that house ever since. We definitely live on the far side of IV but it's quieter and we have a lot more room, both inside and outside. The bike ride to campus is obviously longer but you'll learn to only go to campus when you really need to.
After Graduation
What are your "big picture" plans/aspirations after graduation? I plan to attend graduate school and pursue a PhD. in radio-frequency integrated-circuit (RFIC) design. I have always loved school and the process of learning so I think graduate school is naturally the next step for me. Especially since I want to work on next-generation communication systems, a PhD in RFIC design will allow me to get accustomed to state-of-the-art technologies.