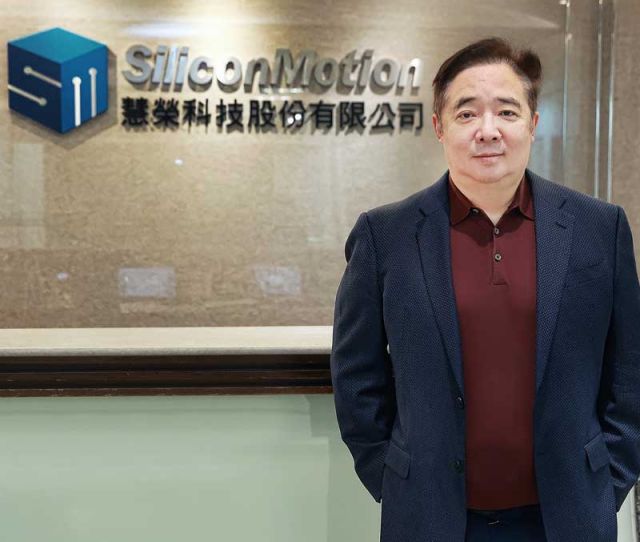 Alumni Q&A
Wallace Kou | Founder, Silicon Motion
From The ECE Current Newsletter (Fall 2022)
Alumni Q&A: Wallace Kou (video)
We spoke with UC alumni Wallace Kou, as he reflects on the impact the ECE program had on him and his success as founder of Silicon Motion
Q: Please introduce yourself.
I got a master of electrical and computer engineering from UC Santa Barbara in 1985. I am the president and CEO of Silicon Motion today.
Q: Please talk briefly about Silicon Motion and the products that your company creates?
I am the founder of Silicon Motion, which I started in May 1995. Today, we are the largest NAND flash controller maker in the world. So, we are leading in the industry, providing controller solutions to many markets, such as personal computer, automotive, data center, many electronic consumer devices - probably close to a hundred different applications in the market.
Q: Let's talk about your time at UCSB. Did you have a mentor and how did he or she impact you?
During that time period, naturally, I really tried to study as quickly as possible to jump into industry, and that was the master's program. I remember when I joined the program, UCSB changed the program – all the master's degrees needed to go through the comprehension test. So, I joined UC Santa Barbara master's degree program in the fall of 1983, but I think I finished all of my credits in the summer of 1984. During that time, the semiconductor industry was not good, but I was lucky to get a few interviews along the east coast and west coast and got probably more than twenty different offers. I jumped into the market and started to work by December of 1984. I came back to the school around June or May of 1985 to go through the comprehension test to get my master's degree.
I remember the two professors that I really liked, one is Dr. Butler, the other is Dr. Howard, they're probably both no longer at UCSB, but they provided a lot of inspiration in terms of how to study a topic and how you can see something through a new angle. So those are the two professors of whom I have a really deep impression.
Q: Can you recall a pivotal moment that you had at UCSB that made an impact on your career?
I remember one of the best things from the program at UC Santa Barbara was that they provided a realistic course that allowed you to make a real silicon and go through the full process of testing, the full coverage, so it was very practical and gave you a much deeper knowledge. You could understand the process, not just the paper, and you could really design something that you like. That is something that I really liked.
Q: Why do you think the ECE Department is successful in training students for success?
I checked with my classmates, who also graduated later, but everybody got a pretty good job, which means that Santa Barbara and the Electrical and Computer Engineering Department is very effective. It really helps you develop into a person who's not just a graduate. You can learn something very solid which will link with industry very well. So even though I studied a very short period of time, the program gave me sufficient knowledge and a strong background to jump into the job market.
Q: As an alumnus of UCSB, how have you given back and why do you think that it's an important act to do?
To me, I got something from the school, and I like to give back but I also like to help the young generation, not just UCSB. I think that every person has a dream, a vision and a mission. Everybody has different capabilities. If I can help the younger generation and if I can make the school better I'm happy to do it.
Q: What advice do you have for the next generation of electrical and computer engineers?
For the younger generation, you better know what you like to do and have determination to go for it. Don't hesitate. There may be some challenges, but settle your hesitation and go do it. I believe that most people will be successful if they really have determination and work hard. The younger generation has many different opportunities, but because they have so many opportunities, sometimes they can lose their focus because they have so many choices. If you really want to be successful, you have to focus your determination and become an expert in your area.
Q: What about your professional career makes you the most proud?
We've become the largest controller maker in the world. We do business with all of the largest, top-tier world leaders, all of the NAND makers, for Intel, Samsung, SK Hynix, Micron, Western Digital, Kioxia in China, and Rising Star One TC. We work with many different consumer-based companies, such as Google and Amazon. We have all the PC makers, Lenovo, Dell, HP, Asus, and Acer. We have all of the major automotive makers and business with Tesla, Waymo, Toyota, Honda, Audi, you name it, and all of the smartphones except for Apple. We have a very broad customer base in the world from industrial to consumer electrics, for automotive, to some even products selling S35 today. It's through the engagement with top-tier, world-class customers you can learn, and it makes the job more exciting. By becoming more exciting, we attract people who make the company stronger and better every day, which in turn makes our products better to influence our industry and become more meaningful for our customers.
Q: How proud are you to be a graduate of UCSB's ECE program?
I'm proud that I graduated from UC Santa Barbara. It really gave me my first start in the U.S. It also gave me a strong foundation to enter into industry and I really appreciate it. I'd like to give back to the younger generation at the school and hopefully I can invite others to make an impact.