News - ECE 189 Best Projects 2019
Fourth-year undergraduate Computer Engineers use their powers for good at the 2019 COE Capstone and the Engineering Design Expo (EDx)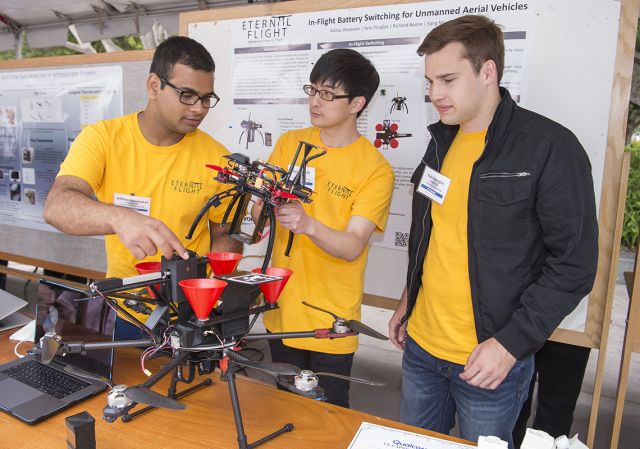 There was no shortage of good ideas at the College of Engineering's 2019 CE Capstone event and Engineering Design Expo (EDx). The annual undergrad engineering showcase — which took place Friday, June 7 — was the culmination of year-long special projects undertaken by senior year students, often in collaboration with industry partners or campus research labs.
Drone technology was big at the 2019 Capstone and EDx events, with several student teams working on technology to enable drones for a variety of applications, some of which include ocean habitat monitoring and forest canopy sampling.  Another strong theme this year was the therapeutic devices meant to help those with cerebral palsy and diabetes, tech to assist surgeons with their jobs, or to help provide a little customized self-care.
In addition to the valuable engineering and industry interface chops the Capstone projects were meant to hone, several teams gained cash prizes and recognition for their efforts.
At the morning CE Capstone event, computer engineering undergrads took drone flight to the next level, with innovations that sought to make drone control a more seamless experience, took advantage of its airborne access, and — most notably — tackled the problem of short battery life. In fact, team Eternal Flight took drone pilots and enthusiasts everywhere one big step closer to the ideal of long flight times with a method of switching a drone's batteries while in flight. For overcoming that very difficult technical challenge they received the $2,000 Qualcomm CE Capstone Award. Eternal Flight was followed by $1,250 Engineering Innovation in CE Award winners Hands-On Flight, developers of a control glove that does away with the thumbsticks and uses more intuitive hand and arm motions to direct the drone.
The engineering innovation demonstrations continued into the afternoon at the COE EDx event where the $750 Best CE Capstone Poster Award went to Cloud Control, which merges drones and wireless communication technology to allow for mobile broadcasts in times of emergency.
The UCSB Current – "Beneficial Tech" (full article)
ECE 189 Capstone Senior Projects (course website)