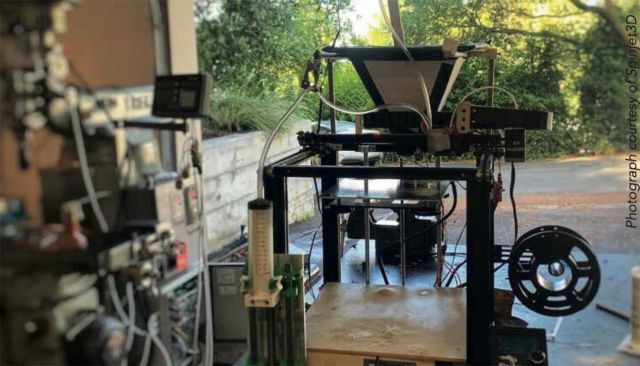 Spinjet 3D Team Wins Virtual TMP's New Venture Competition
The Spinjet3D team that included ECE graduate student, Anurag Pallaprolu, wins the 2020 Technology Management New Venture Competition (NVC) and the $10,000 First Place Award
On May 21, the Spinjet3D team won the 2020 UCSB Technology Management Program's competition besting four other teams in the finals of the eight-month business-plan competition for aspiring tech startups. With the UC Santa Barbara campus closed during the coronavirus outbreak, the annual competition was held remotely and viewed live by people around the world.
Team members Anurag Pallaprolu, a PhD student in the Electrical and Computer Engineering Department; physics major Noah Treiman; mechanical engineering student Yiling Yang; and Piergiacomo Palmisani, a technology management graduate student, were recognized for the new type of 3D printer they have developed.
Making metal parts, especially those that are not produced at large scale, is expensive and time-consuming. Molds have to be made by hand before the metal is poured in to create the part. Sand-mold 3D printers, which print the mold directly from common sand materials, are a time- saving alternative, but their size and hefty price tag put them beyond the reach of many metal-parts manufacturers.
The students say that their fully automated sand-mold 3D printer is faster, cheaper, more precise, and more eco-friendly than existing technology.
"We are extremely grateful to the Technology Management program for this incredible experience and opportunity," the team said in a written statement. "Our team met through NVC events, and the mentorship the program provided was invaluable. We look forward to making a positive change in the metal manufacturing industry, and we are excited to start our journey here in the Santa Barbara community."
The Spinjet3D team intended to use their winnings to finish developing the product, raise capital, and perform prototype testing over the summer.
The second-place finisher in the competition was Legtrek a team that included ECE graduate students Kevin Huynh-Tran and Brandon Luu. The team's project was a new medical device combining a powered wheelchair and a powered gait trainer to serve patients who have challenges with lower-limb mobility. They earned $7,500.
The online nature of the 2020 events still allowed students to think on their feet while interacting live with judges and audience members and answering their questions. The virtual fair attracted a global audience of 620 people from as far away as Nepal. "I salute all of our students," said Dave Adornetto, technology management's entrepreneurship director, during the online finals. "You all did an excellent job through very difficult challenges and circumstances. You guys never wavered, and you pushed through."
During the finals, teams were judged by a panel of tech entrepreneurship experts and investors made up of: Bei-Jing Guo, a graduate of UCSB's Electrical and Computer Engineering Department and an investor with Seattle Alliance of Angels, who founded her own artificial intelligence start-up after spending twenty years at Microsoft and Amazon Web Services; Kenny Van Zant, a software company executive for more than twenty years and an active angel investor; and Kevin Zhang, a partner at Upfront Ventures, the largest and longest-serving venture capital firm in Los Angeles.
COE/CLS Convergence magazine (W21) - "Spinjet3D Wins Virtual New Venture Competition" (full article pg. 5)
COE/CLS Convergence magazine (W21)
Technology Management Program (TMP) - New Venture Competition (NVC)