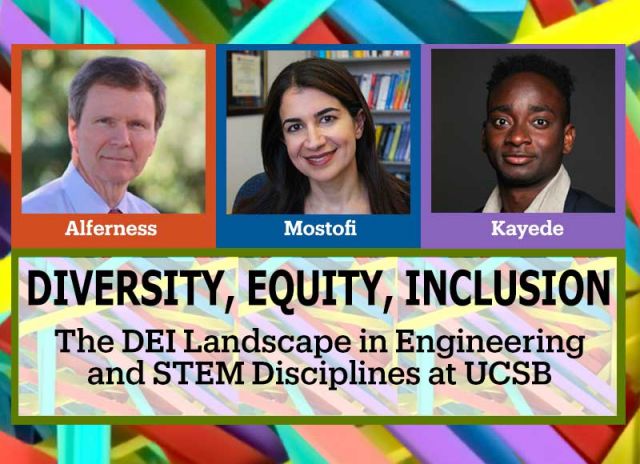 CoE FOCUS ON: Diversity, Equity and Inclusion (DEI)
ECE's Rod Alferness (CoE Dean & faculty), Yasamin Mostofi (faculty) and Emmanuel Kayede (PhD student) highlighted
Excerpt from CoE Convergence (S21) article "FOCUS ON: Diversity, Equity and Inclusion"
The social-justice protests that swept the nation in the spring and summer of 2020 sparked a sense of urgency around matters of racial justice, including questions of diversity, equity, and inclusion (DEI) in institutions of all sizes and kinds. Over the past year, thousands of entities, including the University of California, UC Santa Barbara, the College of Engineering (CoE), and its departments have discussed, studied, reflected, and initiated action to address DEI challenges and shortcomings and increase representation. It is an ongoing process that will, perhaps, never be "complete."
"DEI issues are critically important, and diverse perspectives are essential," says CoE dean, Rod Alferness. "We're a public university, and we should certainly be representing the population as it exists in California. We have a long way to go to do that."
As suggested by M. Ofelia Aguirre Paden, director of the Center for Science and Engineering Partnerships (CSEP), which currently operates fifteen programs having a focus on workforce development and broadening participation in STEM, "Increasing diversity in STEM fields is critical for the economic prosperity of both individuals and the state." With a future shortage of STEM workers looming in industry, she notes, "More diversity in the workforce will not only address the shortage, but also seed innovation and creativity that can lead to new ideas. To do this, however, we must address the inequities in STEM at all levels, starting with including the voices of those who have been historically excluded from the scientific enterprise."
In this special "FOCUS ON: DEI" section, we look at what has emerged as a key challenge of our time, as well as some important existing and new programs, key processes, and people who are working hard to make UCSB a more inclusive and diverse place to work, study, and perform research that, like DEI itself, can move society forward.
FOCUS ON Sections:
Moving the Needle: Expanding efforts to enhance diversity – pgs. 25-26 (Yasamin Mostofi, ECE Prof.)
The Student Pipeline: Access opens the door to everything – pgs. 27-29 (Emmanuel Kayede, ECE PhD student)
Do I Belong Here?: Impostor syndrome is the invisible challenge for many non-traditional students and with the right support, they overcome it. – p. 30-31 (Emmanuel Kayede, ECE PhD student)
Retaining Talent: Diverse students require diverse forms of support to ensure that they succeed and graduate – pgs. 31-35 (Rod Alferness, CoE Dean and ECE faculty)
The Faculty Pipeline: Challenges and approaches to overcoming barriers that limit representation – pgs. 36-37 (Rod Alferness, CoE Dean and ECE faculty)
Q&A with Belinda Robnett: UC's first Vice Chancellor for Diversity, Equity and Inclusion – pgs. 26-27
COE/CLS Convergence magazine (S21) - "FOCUS ON: Diversity, Equity, Inclusion" (pgs. 25-37)
COE/CLS Convergence magazine (S21)
ECE "Diversity is Strength" webpage (ECE Statement on DEI, Committee and UCSB Resources)
Alferness's CoE Profile
Mostofi's ECE Profile
Kayede's ECE Grad Student Spotlight